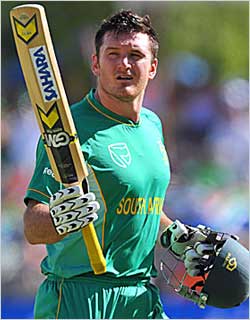 South African Graeme Smith, international cricket's longest-serving captain, sprang a shock as he announced he would retire from all international cricket after the current third Test against Australia at Newlands. The 33-year-old - whose long-time team-mate Jacques Kallis retired from test cricket in December though he wants to remain part of the one day side - had said that he still had things to achieve in international cricket.
However, after another batting failure in the present series, he made just five in the first innings on Monday he decided it was time to call it a day and told his team-mates of his decision.
"This has been the most difficult decision I have ever had to make in my life."It's a decision that I have been considering since my ankle surgery in April last year. "I have a young family to consider, and I felt that retiring at Newlands would be the best way to end it because I have called this place home since I was 18 years old."
In 38 series of two matches or more he has had 22 series wins and seven losses, with nine drawn. South Africa have not been beaten in a series since Australia beat them in 2008/09 – although they are in danger of defeat in the current third Test in a series which is tied at one-all. His record includes two away series wins against both England and Australia – a feat achieved by no other captain. By his own admission it took time for him to mature as captain after being one of the youngest players in the squad when he was appointed. When he was offered the captaincy his father, Graham, tried to dissuade him, arguing that he would be better qualified for the job when he had gained more experience. Smith, though, had no hesitation in accepting.
"I had wanted the job since I was 13 and I honestly believed I could do it," he said soon after his appointment. "It's been an incredibly special ride," he said last season on the eve of his 100th test as captain. "It hasn't always been easy. There have been some incredibly tough times. I've had to grow to come through those times and to start to enjoy success and to feel comfortable in the position and in myself." Smith said it had been a privilege to lead his country for so long.