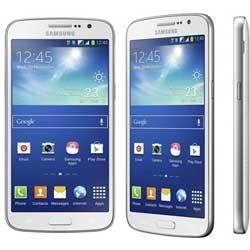 Samsung's latest premium device, the Galaxy Grand 2, dubbed 'Larger than Life', has been unveiled in Ghana. It is expected to provide Smartphone lovers the opportunity to use a premium device at an affordable pricing.
This device which offers a premium Smartphone experience for users has a uniquely hand crafted leather-like back and a 5.25-inch screen with 16:9 HD ratio.
These features take the Samsung Multi Window feature to the next level by maximizing the benefits of the device's large screen, enabling users to simultaneously run one application in two windows. As a complete business companion; the Galaxy Grand 2 comes with Dual SIM support, which allows you to separate work from personal matters no matter where you are.
The large screen also offers a great viewing experience when accessing business documents. It also has a 3G internet connectivity which allows fast internet browsing as well as using Social Media apps like Chat On, Facebook, Twitter, Instagram and Whatsapp.
The Hand Held Manager of Samsung Ghana, Tetteh Akornor said the Galaxy Grand 2, which is the successor to Samsung's popular Galaxy Grand, is powered by a 1.2GHz quad-core processor. It runs on Android 4.3 Jelly Bean OS. He noted that the phone has 1.5GB of RAM, an internal memory of 8GB, and also supports external memory capacity of up to 64GB.
The Hand Held Manager of Samsung added that the Smartphone has an 8 megapixel rear camera with an LED flash and a 1.9 megapixel front camera.
"The dual-SIM mobile phone is packed with a 2,600mAh battery which can to offer up to 10 hours of playback and 17 hours of calls. The Samsung Galaxy Grand 2 is available in White and Black colours" he observed. Mr. Tetteh Akornor said the new Galaxy Grand 2 comes with a FREE 2.5GB internet data every month for 3 months from MTN and an unprecedented 24-month warranty on the phone through their convenient and easy-toaccess E-warranty platform.
He urged everyone especially Samsung customers to endeavor to have the Galaxy Grand 2 experience.