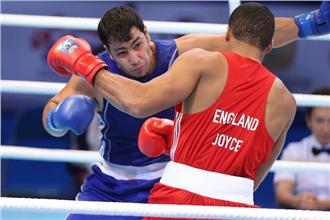 Algeria is the new talk of town in the boxing world. On March 7, 2014 Algeria emerged as the overall winner of the 4th edition of the African boxing championship concluded in Yaounde. Every Algerian boxer excelled in all the boys, girls and junior category matches by winning a total of 12 medals i.e. seven in gold, three in silver and two in bronze. In a celebratory mood, the Algerian technical director, Mourad Mezine asserted, "It is a historic performance. The success demonstrates advances made by Algerian boxing. We came with 13 boxers and won 12 medals. I am very satisfied because that represents 95 per cent success."
Meanwhile, Morocco dominated the event in the women category followed by Algerian in terms of medals won. Unfortunately, Cameroon the host country recorded a very disappointing performance on the continental scene but gradually reigned supreme in the Zone 3 regional competition by winning four medals.
The African championship took place from March 2 to March 7, 2014. It is the first competition to be organized by the boxing federation after the re-election of Bertrand Mendounga, in preparation for the upcoming African games in Botswana.