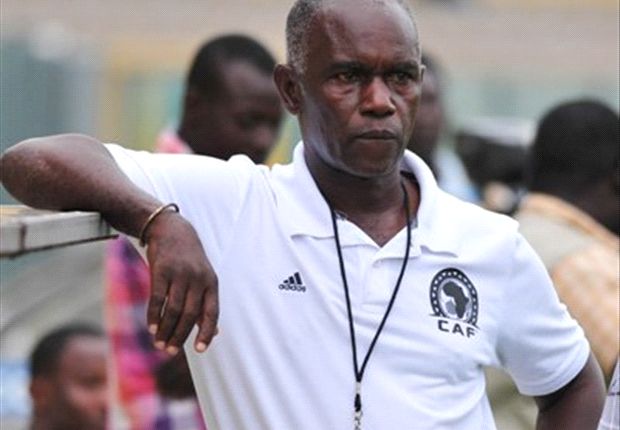 Coach Herbert Addo has made a return to hold the helm at Accra Hearts of Oak, a club he led to win the league title in one season and go entirely unbeaten another term.
Herbert Addo, the only man to coach four clubs to the Ghana top flight title, has signed a 2-year deal to take over the reins at the former Ghana and Africa champions as he replaces Mohammed Ahmed Polo who guided the club to a 3 place finish last season.
Coach Addo was unveiled at a colourful ceremony at Metro TV which was also screened live on the local television channel in the presence of Hearts owner and Board Chairman, Togbe Afede XIV and other club bigwigs, Dr. Nyaho Nyaho-Tamakloe, Frank Nelson, Mr. Thompson among others. And they want the new technical head to get down to work immediately as they desperately aim at claiming a first silverware in five years.
'This is evidence of where we want to take Accra Hearts of Oak to, we want to win the upcoming league and more that's why we have gone for the best coach in the land. We want to establish Hearts of Oak as an international club way beyond Ghana and Africa,' said Togbe Afede who chaired the unveiling ceremony.
'Coach Addo, it's a great honour for us to have you. We look forward to working with you and we look forward to celebrating victory after victory, glory after glory. We want to return to the days when we were ranked the 8 best club in the world and we believe you can do it. The sky is the limit,' the Hearts of Oak chief added.
Other technical room staff introduced on Thursday afternoon were Sabahn Quaye who also makes a return to the club as Team Manager, Edward Ansah who is also back as goalkeepers' trainer, Dauda Lutterodt as youth coach and Stephen Abugri as assistant coach.
'The last time I was here, I played 60 matches and lost only two so I know the headache I've got as we seek to do even better in the coming season but I'm determined to just go a step further than ever before,' Coach Addo said.
Coach Addo also reiterated that his immediate goal is to win the league title with Hearts, insisting that the club will not go on a player buying spree because he has confidence in the players already at his disposal.
'We already have quality players, I just need to see these players and work with them. My last club (Inter Allies), myself and the boys set ourselves a target of 41 points and worked towards it. I personally set a target of 45 points' Coach Addo said.
He explained: 'I was not able to achieve my personal target but the team did and that's the most important thing. If we are on the same wavelength, we'll work together and achieve our targets.'