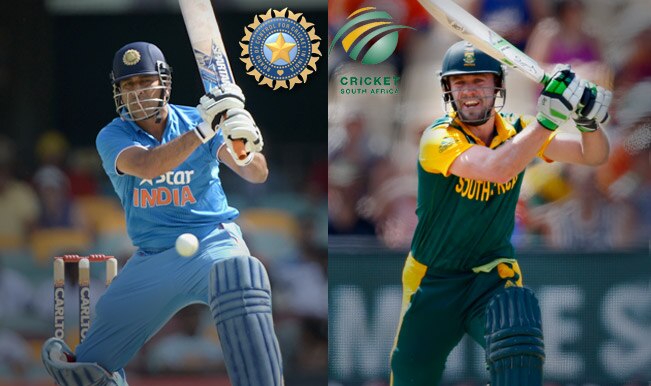 In an era of truncated tours, South Africa will spend 72 days in the country playing four Tests, five ODIs and a three-match T20 series When Hashim Amla & Co. land in Delhi in the last week of September, they'll be welcomed by the last rays of a torrid summer. By the time they depart for home from the Capital, some 72 days later, winter would have set in and Delhiites busy haggling for woolens.

In that period, the Proteas would have traveled 16,251 kilometres across the length and breadth of the country, soaking in more sights, sounds and smells around India in two-and-a-half months than most Indians would do in a year or two. It will also mean that some like Dale Steyn, AB de Villiers and Morne Morkel, who were integral parts of their respective IPL franchises during the summer, would have spent four months of 2015 in India.

If anything, Amla and his team might be well equipped by the end of it to pen down their own South African version of the Discovery of India. For, their journeys will see them criss-crossing from the far north to the far east — a 2,101 km trek from Dharamsala to Cuttack — and the farthest west, Rajkot, to the south-eastern coast of Chennai — 2,029.7 km apart.

This will be South Africa's longest tour to India not just in terms of duration, though. Never before have the two nations faced each other in a four-Test series, and the Proteas are yet to play an international T20 on Indian soil. For the record, they will play three games of the thrill-a-minute variety to kick off the tour, with the first one at Dharamsala. The T20 series will be followed by five ODIs played in a two-week period.

Goa trip
So long will the South Africans make India home that they are even scheduled to make a two-day trip to the tourist destination of Goa for some team-bonding and recuperation before returning for the Test series, which will be preceded by a two-day tour match in Mumbai. That it will pit two teams who will be expected to be on a par in terms of quality and competitiveness across all formats only makes the tour all the more enthralling. In addition of course to the retro feel it possesses in terms of its scheduling.

This is how it used to be after all. Lengthy vigils in a foreign land with hectic on-field action doubled with plenty of off-field explorations with the visiting players getting assimilated into the host nation's psyche, forming lifelong bonds along the way. It's during such tours that heroes and legends never heard of before would be created, with their tales becoming a part of cricketing folklore. Not to forget the tour diaries that would get adopted as cricket literature and fill up almanacks and history-themed book-shelves. And often it were these tours that brought two nations closer than any number of ambassadorial visits, long before Steve Waugh promoted his famous 'embrace the culture' campaign during Australia's 2001 tour to India.
But cricket has accepted the inevitability of channeling itself into the fast-paced modern era — except maybe when the Ashes are played — and its most obvious sign are the truncated tours with back-to-back matches, which have come in vogue. It's an era where a number of cricketers from around the world have succumbed to the pressure and stress of being away from home and coiled up in hotel-rooms for months on end. Even countries like Australia and England, who were the pioneers in playing hosts for extended periods, have begun dividing tours, hosting teams for Tests and ODIs separately.
England had spent 78 days in India three years ago when they played four Tests, two T20s and five ODIs spread between November 2012 and January 2013. But Alastair Cook & Co. had gone back home to spend Christmas and New Year's with their families before returning to India two weeks later. It was a long enough break to suspend the flow, which will be the feature of the 2015 South African tour.
For the likes of Steyn and De Villiers, warming up to Indian audiences might not be a unique experience, considering they've done that year after year in the IPL. In fact, the schedule has been planned in such a way that the South African ODI captain will complete a significant milestone by playing his 100th Test in front of his 'home' fans at Bangalore's Chinnaswamy Stadium. But Amla has somehow always remained an enigma, barring the times he's piling on the misery of the Indian bowlers while scoring runs as a pastime. That, though, is about to change in a couple of months' time, as the South Africans script their 'Indian summer' this coming winter.