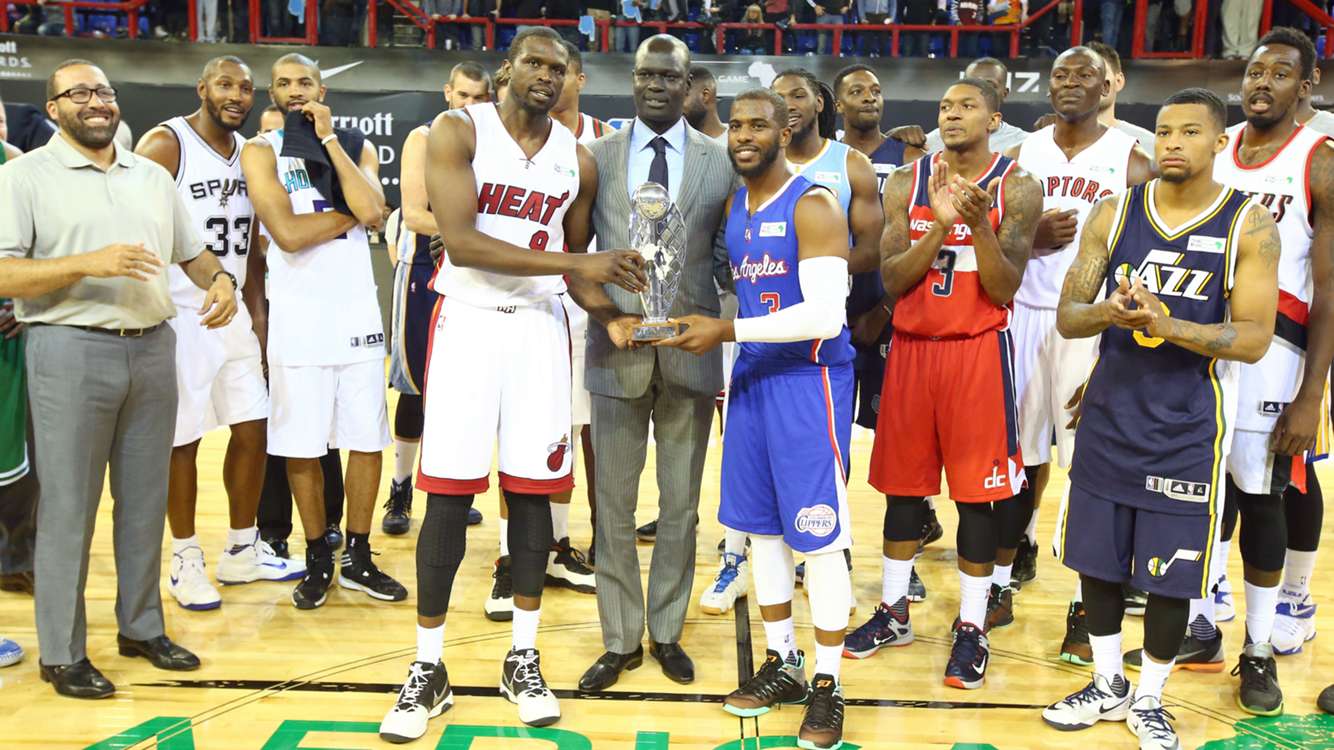 There was a game scheduled Saturday, a historic and perhaps groundbreaking one, the first involving NBA players in Africa, a continent heavy on promise and light on experience and exposure to basketball.

But first came the game before the game. And this one was far more competitive.

Hakeem Olajuwon and Dikembe Mutombo, the greatest players Africa ever produced, were asked by league organizers to come out of retirement and make a cameo in the exhibition. Olajuwon is a Hall of Famer and Mutombo will be enshrined next month. They would suit up for Team Africa, a squad of players with African blood, against Team World. Their jerseys, along with one belonging to the late Manute Bol, hung ceremoniously in the rafters above the court inside the arena. Therefore: A simple and brilliant request, right?

Brilliant, yes. Not so simple. Mutombo was receptive. Olajuwon said no. Olajuwon is 52, Mutumbo 49. They are fit and trim, but as basketball players, they were finished. It was not going to happen. Organizers pleaded. The answer, up to the day before tipoff, was no from Olajuwon. Truth be told? Both were afraid of being embarrassed on TV, in front of fans who knew them as legends. Neither wanted to play like chumps.
And then: Olajuwon weakened. He brought along his two pre-teenaged boys, who never saw him play, and so he agreed. When they checked in midway through the second quarter wearing their throwbacks -- Rockets for Olajuwon, multi-colored Nuggets for Mutombo -- the NBA Africa game had its signature moment, its energy, its second-loudest applause of the day.

The biggest bedlam? That burst arrived when Olajuwon reeled back to 1993, executed the Dream Shake that froze Nik Vucevic, faded and shot a 15-footer that kissed the rim and fell in. Cray-zy. The crowd pounced. Players on both benches jumped.

"I made the move, I made the shot, it went in," said Olajuwon. "I missed my first shot and was happy to make the next one. And I was really happy to participate."

After a minute of action, Olajuwon playfully grabbed his chest, Fred Sanford-style. Gregg Popovich, who knows about coaching old players with the Spurs, did the humanitarian thing and allowed Olajuwon to wobble back to the bench and into re-retirement.

As for Mutombo? Didn't one trademark basketball moment deserve another? As in, a blocked shot and finger wag? Popovich drew up a defensive play that you'll never see in a Spurs game. He ordered his players to allow guard Trey Burke to reach the rim, where Mutombo awaited. The trap was set but the mouse didn't cooperate. Burke passed the ball.

"So many of these young players don't want to see themselves on YouTube," said Mutombo, "so they run away." As for the rest of the game: It registered in Africa. It was All-Star Game-like. Lots of dunks, and then three-pointers in bunches in the final five minutes. This was NBA action, finally, in this continent and the crowd treated it as such. Team Africa lacked a point guard. Didn't matter. Team Africa also lacked shooters. Well, that mattered when the World rallied in the final moments and pulled ahead. Burke was booed at the free throw line with seven seconds left and Africa down three. Tough crowd. Proud crowd. Biased crowd.

But after the buzzer sounded and the World won, 101-97? Every player in the game was treated like Africans. "We all won," said Olajuwon. "The whole week was a winner." Yes, absolutely. As Chris Paul said: "The game was secondary to all the great things that took place."

Where do we start? Maybe at the beginning. On the 16-hour flight to South Africa, Paul passed the time and fought sleep by reading Nelson Mandela's book, A Long Walk to Freedom, on a recommendation from a friend. The book resonated.

"I thought it was fitting for me to read that book on the way over here," said Paul, "because it gave me a great sense of what he and others have been through in Africa. To me to go to Soweto and then to Nelson Mandela's house was amazing."

The youth clinics, run by Masai Ujiri, went smoothly. Meanwhile, the Raptors' GM, who also holds two basketball camps annually in Africa, was honored by the Mandela Foundation's Hall of Fame, his name chiseled on the same wall as Bill Clinton and other dignitaries. It was a defining moment for someone who idolized Mandela, and a confirmation that his constant work to develop basketball in Africa is appreciated by his homeland.

"To receive such an honor, I never thought this would ever happen to me, growing up in Nigeria," said Ujiri. "It's life changing. Everything he symbolizes is the right way a human being should be. It's not easy to be selfless, but he was."
Many players and coaches choked up while visiting the SOS Village, where they were swarmed by orphaned and abandoned children.

Their stories and their plight were heart-wrenching. Lionel Hollins, the Nets' coach, left with thoughts of adoption.
And speaking of that: Alexis Wangmene was in attendance at the game. He was spotted at a Basketball Without Borders camp in 2004 by R.C. Buford, the GM of the Spurs. Buford and his wife brought the 14-year-old from Cameroon to San Antonio and gave him a home and a new brother, Chase Buford. Long story short: Wangmene prospered, played college ball at Texas and for the last few years played professionally overseas.
"My journey started here, 11 years ago," Wangmene said. "I met the most wonderful man I know. He changed my life. He's always been very supportive, very encouraging. I remember first meeting him and him talking to me like it was yesterday. Being here at this game helps bring back all of those memories. Good memories. Coming to San Antonio and being with his family was the best time of my life."
The purpose of the four-day trip to South Africa, of course, was to stimulate the appetite for basketball in a place that's slowly producing professional players and hoping that one day, a trickle of talent turns into a gusher. Africa has a billion people but is slower to become a basketball factory, for several reasons, which puts it well behind Europe, Asia and South America. Even Australia has turned into a faucet in relatively short time.
Again: Africa didn't even have a point guard for Saturday's game. And over half of the players who suited up for Team Africa were weaned on basketball in other countries.
The main roadblocks are coaching, facilities and resources, although the tireless work of Ujiri and especially Amadou Fall, the NBA's director of development in Africa, gives some hope.
"Something is going to come from this," said Fall. "This will grow."
Here's what will likely not happen: Olajuwon and Mutombo, huffing their way down the court in an organized game.
"Come on, man, I'm old," said Mutombo. "Nobody better ask me about playing basketball again. I was out there for five minutes and my chest hurt. It's not easy out there."
They sacrificed their limbs and lungs for Africa. And they did something else, Mutombo and Olajuwon. By being Hall of Famers, they helped the NBA field a team of players with African heritage and stage a game on the continent, and the NBA plans to keep the door open for coming back. That's what pioneers do.
Luol Deng grew up in strife-torn Sudan and soon escaped to America, where he learned the game and attended Duke and eventually became an All-Star. He knew what Olajuwon and Mutombo meant to him during those developmental years.
"As a kid, I never could watch NBA players or see an NBA game because that didn't happen over here," he said. "Because of Hakeem and Dikembe, this is why this game happened today. It's a huge step forward."
The NBA made sure not to leave out the third player in the African Trinity. An MVP trophy was split between Deng and Paul. It was named after Manute Bol, a fitting tribute for the memory of the 7-7 shot-blocker from Sudan.
"God bless his soul," said Mutombo. "He was a good man for his country. He was good for the game. He would've loved to be here. And everyone would've loved having him here."
"When you talk about Dikembe and Hakeem, you talk about two iconic figures," Pop said. "And to be here in Africa, and roll them out, it makes the whole day special. You could see the players on both teams. They were in awe."