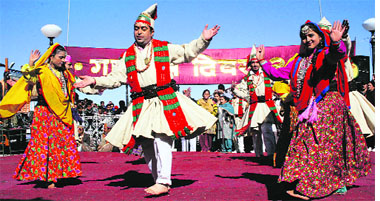 Himachal Pradesh Tourism opens up a world of indispensable beauty that has always attracted tourists from different corners of the world. Such is the charm of this state that people are bound to come back over and over again to this landscape.
The most beguiling sight here is that of the snow covered mountains, meadows, dense green forests and deep-down valleys. Journey to Himachal Pradesh makes you experience the true joy of holidaying in the laps of Mother Nature.
Himachal Pradesh is located in the Northern part of India, it is known by different names like Home of Snow, state of hills and the list goes on. Covered with lush green mountain ranges, the state is spread over an area of more than 56019 sq km with its boundaries to Jammu & Kashmir, Punjab, Uttarakhand and Hariyana. It also houses an international border with Tibet in the east.
The main source of income is here agriculture and tourism. The exotic valleys, green hill slopes, snow clad mountains, beautiful streams and lush greenery daunted with Sagon, Oak, Deodar, etc, has a lot to explore.
Right from hill stations to pilgrimage sites, adventures sports destinations, rich culture and heritage, festivals, celebrations and wildlife sanctuaries, the state has a lot to explore. Shimla is the Capital city and one of the most beautiful hill stations in India.
Ladakh is one of those places that can make an ordinary photographer feel like a professional. Simply because no matter where you point a shoot, you are bound to get a picture perfect frame.
Those who have already visited this beautiful terrain will vouch for the fact that the place has a strange pull that makes you want to revisit it many times over. Trekking and motor biking in Ladakh gives the best experience for adventure lovers. Leh, the capital of Ladakh is the largest district in the Ladakh.
Manali is situated near the end of the valley on the National Highway leading to Leh. The landscape here is breath taking. One sees well-defined snowcapped peaks, the Beas River with its clear water meanders through the town. On the other side are deodar and pine trees, tiny fields and fruit orchards.
Himachal is peppered with the awesome landscape that is a dream of everyone. With lofty Himalayas draped with snow, deep valleys, vast woods, chilled rivers, green surroundings, scenic lakes and deep gorges, Tourist attractions in Himachal appeals to your sight and mind.