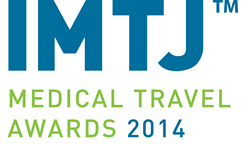 'Healthy people make a healthy country,' yes, we can definitely quote it as health cannot be snubbed and the booming African continent understood the need of it. The health sector in Africa is truly riding the stairway of development. In the recent past, a Kenyan organization, Pathway International among thirteen other companies got acknowledgement as the best in medical tourism at the International Medical Travel Awards which kicked off in Dubai. Pathway International is known for its novelty and excellence in the medical travel, medical tourism and health tourism industry. It has been delineated as the Medical Travel Agency of the year as it expedites medical visits for patients seeking treatment in Kenya and foreign countries.
Simon Karo, the founder and CEO, Pathway International while accepting the International Medical Tourism Journal (IMTJ) award, asserted, "We seek to connect our patients to the best healthcare options, where can evaluate the various options of treatment, access a wider range of experts and the best treatment at the lowest cost. This award is made possible by the immense support we have received from all doctors and hospital partners who we work hand in hand, as well as our dedicated staff." Worth mentioning, Pathway International is said to be dedicated to ensure Kenya become the leader as the medical travel destination in Africa.
Furthermore, medical tourism in Africa is fairly new and is a growing industry presently evaluated at $100 billion with India progressively coming out as an attractive medical destination for the continent due to its affordability and quality of service. If Al Jazeera is to be believed India received 1.1 million medical tourists between 2009 and 2012 i.e. earning $2.4 billion.
Also, the Chairman of the judging panel and Managing Editor of IMTJ Keith Pollard during the event asserted, "Medical travel is an exciting and growing global industry, with many providers delivering excellence in both medical care and customer service. The IMTJ Medical Travel Awards are the first independent awards to recognize those who are the best of the best and hopefully to encourage others to emulate them. The judges wanted to reward innovation and excellence, highlight best practice and celebrate those who are leading the way in the industry and delivering successful outcomes for patients."