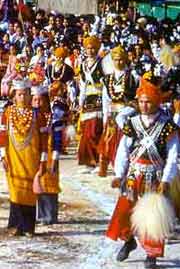 Meghalaya literally the 'Abode of Clouds' describes the climatic phenomenon that brings rain to its mountainous region. Meghalaya is a state of great scenic beauty with undulating rivers, waterfalls, sparkling mountain streams, emerald-green lakes, gorges, precipitous ravines and panoramic views from hilltops. It is inhabited by mainly three tribes: the Khasis, the Jaintias and the Garos. Weaving, pottery, stone carving, metal work and basketry are traditional village work. As with most of the North Eastern states, Meghalaya is diversely multi-cultural, multi ethnic and multi religious, with an amazing mix of traditional and modern lifestyle.
High above the hazy valleys and fizzing rivers, concealed in the rolling clouds and hanging on a headland, lies Cherrapunji, 4,500 ft above the sea level. Cherrapunji, the wettest place in the world, is 56 km southwest of Shillong in the East Khasi Hills District of Meghalaya.
During monsoons, one gets to see a very exciting sport in Meghalaya, fishing! Well, with so many rivers flowing through these pristine mountains, it makes logic that locals do fish a lot for food. Meghalaya is blessed with rich wildlife. The dense forests of Meghalaya are inhabited by many rare species of birds and animals including elephants, tigers, golden cats, monkeys and birds like hornbills, partridges, teals, snipes and quails. Meghalaya is dotted with numerous tourist spots.
SHILLONG
Shillong, the capital city of Meghalaya has many beautiful sites such as Lady Hydari Park, Elephant falls, Ward's lake, Shillong peak, and the golf course, one of the best in the country. Enthralling waterfalls, crystal clear lakes and striking mountains make up the city of Shillong.
The beautiful city is encompassed by pine trees. By dint of it resting on the high altitude, the region offers a comforting relief from the burning heat. The deity Shyllong or Lei Shyllong is the famous reason as to why the place holds the name. It also is a proud possessor of the best golf course in the country. Tourism in Shillong is clearly great and is termed as "Scotland of the East".
Shillong was born in the laps of nature, the amazing series of waterfalls, the mystic mountain peaks, crystal clear water lakes, breathtakingly beautiful golf courses, museums and zoo proves the fact. Shillong has a different façade for everyone. Behdienkhlam, one of the famous and recreational festivals of Meghalaya is held in the Jowai Town every year during the months of June and July.