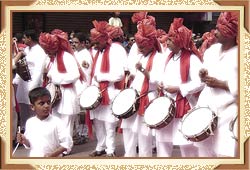 It is the state with rich cultural heritage and is a land of intense spirituality and religious faith. Maharashtra has many great landmarks and pilgrimage centers in the evolution of Indian Temple Architecture. Nestled close to the Arabian Sea, the state of Maharashtra is located on the western side of India and is known for its coolness and exceptional beauty.
It is the second most populous state after Uttar Pradesh, third largest state by area in India and is the wealthiest state in India. Maharashtra can proudly term itself to be the richest state in India, owing gratitude to the stupendous industrial activity in the region.
Mumbai, the city that never sleeps, pulsating, alive, on the move, vibrant, funthis is Mumbai or sometimes still referred as Bombay. The most modern city in India is also known as country's financial powerhouse. It is the capital of Maharashtra state, and its official language is Marathi.
Shirdi Sai temple is a beautiful shrine that was built over the Samadhi of Shri Sai Baba. Sai Baba of Shirdi is popularly known as the 'Child of God'. Sai Baba preached tolerance towards all religions and the message of universal brotherhood. Saibaba found shelter in Khandoba temple, where a villager Mahalsapathi addressed him as Sai or Saint Sai baba. Devotees start queuing up in the early hours of dawn to catch a glimpse and seek the blessings of the life-size statue of Sai Baba. Thursday is marked by special pujasand darshan of the Sai Baba statue.
Ajanta and Ellora Caves
Ajanta and Ellora are the pride of Maharashtra. The rock-cut caves of both these sites are world famous and illustrate the degree of skill and artistry that Indian craftsmen had achieved several hundred years ago.
Ajanta
The caves attained the name from a nearby village named Ajanta located at about 12 km. The caves, famous for its murals, are the finest surviving examples of Indian art, particularly painting. These caves are excavated in horse– shoe shaped bend of rock surface nearly 76 m in height overlooking a narrow stream known as Waghora.
Ellora
The name Ellora itself inspires everyone as it represents one of the largest rock-hewn monastic-temple complexes in the entire world. The Ellora caves, locally known as 'Verul Leni' is located on the Aurangabad- Chalisgaon road at a distance of 30 km northnorthwest. Ellora occupies a relatively flat region of the Western Ghats, and ancient volcanic activities in this area created many layered basalt formations known as Deccan Traps.