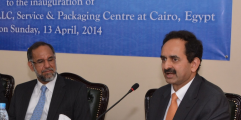 Engineering and infrastructure major Kirloskar Brothers has set up a giant facility in the Egyptian capital Cairo to provide services like energy audits and systems analysis, the company said.
"Kirloskar Brothers to provide energy audits and system analysis value-adds to Egypt's irrigation and agriculture sectors. The company has set up a mammoth 10,000 sq metre facility in Cairo under its subsidiary SPP Pumps MENA LLC," a release said.
The Kirloskar group, which is present in Egypt for over half a century, has recently set up two major pumping stations on the banks of the river Nile, it added.
Apart from the value-added services, the new setup will provide pump testing, assembling and packaging facilities, which are crucial in irrigation and agriculture, the statement said.
It quoted Mostafa Abu Zeid, chairman, Mechanical and Electrical Department of Egypt's Irrigation Ministry, as saying: "Our government has been associated with Kirloskar Brothers for various irrigation projects.
We are proud to use KBL's expertise to develop engineering capabilities that will help agriculture in the region."
"This new state-of-the-art centre will help in developing the skill sets of the Egyptian engineers in the field of irrigation", said Navdeep Suri, India's Ambassador to Egypt.
This facility is the first establishment in Egypt to receive UL certification for assembly, testing and packaging of firefighting pumping units, which is the single-most accepted certification in the industry, Kirloskars said.